Our Materials
We work with a range of natural fibres such as linen, merino wool, possum, ramie, organic cotton and silk. We carefully consider our materials, for their beauty and longevity, and because they are the most responsible option.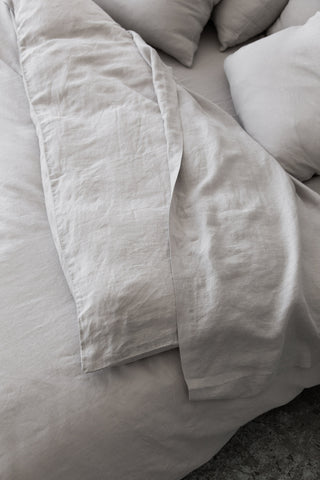 Linen
Linen is where it all started. A fabric as old as history itself, cultivated from the flax plant. With each weave, linen tells a tale of sun-soaked fields and gentle breezes. It embodies simplicity, durability, and timeless charm. Penney + Bennett works with linen certified by Oeko-tex Standard 100. Oeko-Tex Standard 100 ensures the fabrics have been tested for harmful substances and toxic chemicals.
All of our linen bedding is made here in New Zealand.
Strength. Once of the hardest wearing natural fibres. Linen
is incredibly durable.
Thermoregulating. Its weave and fibre allow it to be cool in summer and warm in winter.
Absorbency. Linen can absorb up to 20% of its weight in
moisture before feeling damp, ensuring you stay comfortable.
Natural appearance. Its tendency to wrinkle gives linen a distinct relaxed and natural appearance, often sought after for its aesthetic appeal.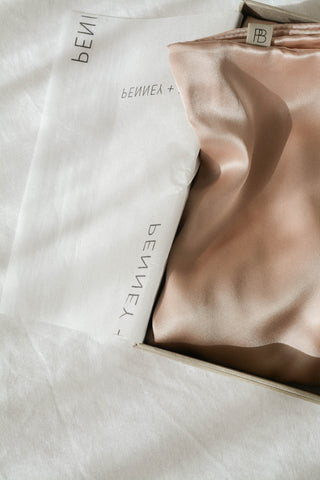 Silk
For many, silk evokes luxury. This fabric, is a testament to nature's finesse and human craftsmanship.
Smooth Surface. The surface of silk is smooth and soft, preventing friction against skin. Its fibres are naturally round and smooth, with no sharp spurs to irritate. Providing unparalleled comfort against the skin.
Fine weave. The tightly woven fibres prevent moisture absorbing from your skin and hair. Helping your skin and hair to stay hydrated.
Temperature regulation. Silk is a natural thermal insulator, keeping you warm during cold conditions and cool in the heat. It adjusts to the ambient temperature due to its breathable nature.
Hypoallergenic. Its natural properties make it resistant to dust mites and mould.
Natural Protein Fibre. Silk is derived from the cocoons of
the silk worm. Making it a protein fibre, similar to human hair.
Lightweight. Silk is lightweight, making garments feel almost like a second skin. The natural springiness of silk fibres gives it a natural wrinkle resistance, creases come out naturally over time.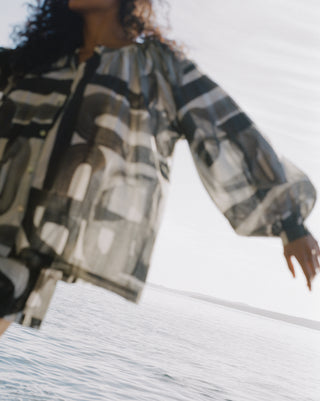 Organic Cotton
Organic cotton, is where the journey towards sustainable fashion truly commences. Penney + Bennett works with the organic cotton certified by the Global Organic Textile Standard. GOTS ensures the cotton is grown organically and that strict social and environmental criteria are followed from seed to garment. Our organic cotton is also certified by Oeko-tex Standard 100. Oeko-Tex Standard 100 ensures the fabrics have been tested for harmful substances and toxic chemicals.
Organic cotton is cultivated with a light touch on Earth, without the use of harmful chemicals, safeguarding both the soil and the farmer.
Breathability. Organic cotton stands out for its ability to allow the skin to breathe, making it perfect for warm and humid climates.
Softness. Over time, and with each wash, organic cotton becomes softer, increasing comfort.
Durability. Despite its softness, it's a robust fabric that can withstand daily wear and regular washing.
Hypoallergenic. It's gentle on the skin and less likely to cause irritations as it's grown without the use of harmful chemicals.
Possum Merino
Possum Merino is more than just a fibre; it's a blend of two of New Zealand's native wonders: the soft undercoat of the brushtail possum and the wonder fibre, fine Merino wool. Offering unparalleled warmth, possum merino promotes biodiversity by managing the possum population in New Zealand. Made from ZQ certified New Zealand merino wool, New Zealand Possum Down and Oeko-Tex Standard 100 certified mulberry silk.
Thermal. The combination of possum down and merino wool offers exceptional insulation, making it warmer than pure wool alone.
Lightweight. It provides warmth without bulkiness.
Moisture-wicking. Merino wool can absorb and release moisture, ensuring the wearer remains dry and comfortable.
Odour-resistant. Natural antimicrobial properties help
reduce odour.
Pill-resistant. The unique fibre structure is less likely to pill compared to other yarns.
Ramie
Ramie, often lesser-known, has been around for centuries. Originating from Eastern Asia, this natural fibre boasts strength and longevity. Ramie is cultivated with minimal chemical intervention, being naturally resistant to mould and bacteria. In the hands of skilled artisans, ramie transforms. It takes on a lustrous sheen and becomes a testament to timeless beauty and sustainability.
Strength. Ramie is known for its ability to hold shape and its resistance to wrinkling and stains.
Lustre. This natural fibre has a natural shine, giving it a luxurious appearance.
Breathability. Much like cotton, it's ideal for warmer climates due to its breathability.
Mould-resistant. Its natural resistance to bacteria and mould means it remains fresh for longer.
Incorporating natural fibres into your space and lifestyle is not only choice of style, but comfort and functionality. Each brings its unique blend of nature and the human touch.